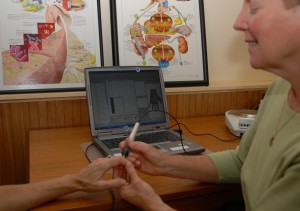 Bio-Energetic Assessment or EAV is a means of using a state of the art computer system and the body's meridians to assess one's health. Much like Acupuncture taps into these meridians to release healing energy the computer reads the energetic impulses of points, primarily on the hand and foot, to help one to make healthful living decisions that are also therapeutic.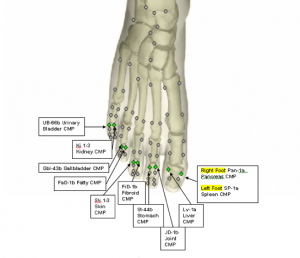 Examples of foot meridian points tested during a Bio-Energetic Assessment.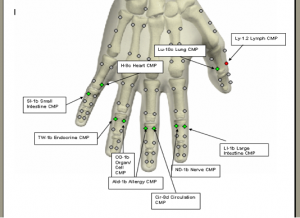 Examples of hand meridian points tested during a Bio-Energetic Assessment.
A common name for Bio-Energetic Assessment tools is Electro-Acupuncture.  In the late 1940's, a German medical doctor and engineer, Dr.Reinhard Voll, began researching and proving an innovative testing method now known as EAV (Electro-Acupuncture according to Voll, also known as EDS, Electro-Dermal Screening). This method was documented and proven in over a decade of hospital studies in Germany and today EAV is widely used throughout Europe by over 25,000 medical practitioners. In the United States, EAV is currently growing in acceptance particularly by medical practitioners who specialize in "Alternative, Holistic and Biological Medicine" techniques and disciplines.
"I suffered from excruciating stomach pain, skin rashes and lethargy for over a year.  I tried conventional medication as prescribed by my Doctor but it only made my symptoms worse.  I had the bioenergetic testing and have been using the bioenergetic products for 6 months.  I am truly amazed at the positive results.  I no longer have stomach pain, my skin rashes are clearing up and I have a consistent level of energy throughout the day.  I wake up happy everyday now.  Thank you so much Linda for offering this service, I feel like I finally have my life back."  MC Nashua, NH
Other useful links:
Healing Template
Homotoxicology
Bio-Energetic Medicine
FAQs for Bio-Energetic Assessments
EAV Discussion